Teachers have the opportunity to work with Dr Claudia Szabo a member of the CSER Digital Technologies Team on Monday 20 November at Kensington.
This session will provide an introduction to the
Year 7&8
Next Steps Making Apps and the
Years 9&10
Explore online courses.   These courses are pa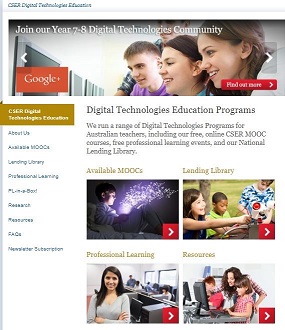 rt of the free CSER professional development Project.
The session offers an opportunity to explore, with guidance, Arduino programming and App development as it is introduced in the MOOC. (Massive Open Online Course) and is suitable for Secondary teachers who are responsible for, or interested in implementing the Digital Technologies Curriculum.
Notes:
Morning tea and Lunch provided (please specify requirements on the registration form)
Please bring along a laptop and sense of adventure!
It is very helpful to have a Google Account (Gmail) and to have joined Google+ prior to the session
Claudia Szabo is an Associate Dean (Diversity and Inclusion) in the Faculty of Engineering Computer and Mathematical Sciences in The University of Adelaide and a Senior Lecturer in the School of Computer Science. She works in the CSER Group at the University of Adelaide where she leads the development of the Year 7&8 Next Steps Making Apps MOOC and its associated lending library and other resources. She has an undergraduate degree in Computer Engineering, and a PhD in distributed systems from the National University of Singapore. She is the 2017 recipient of the South Australian Science Excellence Award – STEM Educator of the Year. She is passionate about STEM education and in particular about ensuring that these educational opportunities are available to all and that career pathways into STEM and accessible to under-represented groups.
For more information please visit our website : https://csermoocs.adelaide.edu.au/